An octopus on the Dogger Bank. © Udo van Dongen
'It doesn't happen very often that three new species are discovered at once in the Netherlands', says marine ecologist Oscar Bos of Wageningen Marine Research. Last Sunday, the expedition vessel Cdt. Fourcault sailed into the Scheveningen harbour and Bos set foot on land for the first time after a ten-day expedition to the Dogger Bank. This was his fourth diving expedition on the North Sea.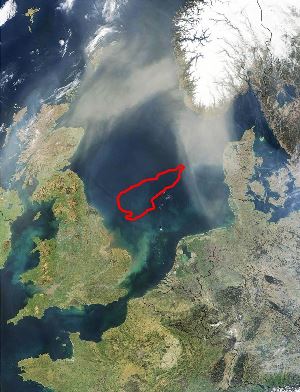 Location of the Dogger Bank. Wikimedia public domain
The Dogger Bank is a sandbank in the middle of the North Sea, about 380 kilometres northwest of the Dutch mainland. It is rarely visited by divers, tells Bos. The expedition by Stichting Duik de Noordzee Schoon was aimed at itemising the wildlife of the North Sea, collecting biological and archaeological data and removing trash, such as nets, lead and fish hooks from the water. The expedition team consisted of 29 divers and included photographers and filmmakers, amateur archaeologists and biologists. The team visited twenty shipwrecks. Bos: 'The identities of about half of those were still unknown, which is why we had experts on the team, such as archaeologists and shipbuilding engineers.'
Together with his colleague Joop Coolen, Bos was part of a team of six biologists. 'Our task was to itemise the sea life on the wrecks. With each dive, we made notes of all species we encountered. Whenever we did not recognise a species, we would bring it on board in a tube to take pictures.' During the expedition, biologist Floor Driessen discovered several animal species that had not yet been observed in the Netherlands. These were three beautifully colourful sea slugs: Tenellia viridis, Flabellina verrucosa and Diaphorodoris luteocincta.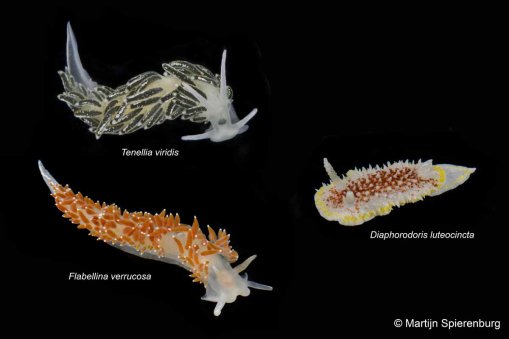 Here they are. The new Dutch sea slugs: Tenellia viridis, Flabellina verrucosa and Diaphorodoris luteocincta. ©Martijn Spierenburg
According to Bos, the diving conditions were excellent. 'It was exceptionally clear and we had a visibility of more than 20 metres, which allowed us to take some beautiful photos and videos. It was like diving in the tropics, with the main difference being that the temperature was a lot lower, sometimes as low as 10 degrees. At one point, one of my gloves got damaged; I could really feel that!'
Diving on the Dogger Bank
There is a lot of unique sea life in the North Sea.
Duiken op de Doggersbank
Diving with such a large team does require complicated logistics, Bos explains. First, the captain scans the seabed to determine the exact location of the wreck. Next, a small anchor is thrown out on a line with a buoy that is placed on the wreck and to which the first divers attach a guiding line. At the end of the dive, the divers use the rope to rise back to the buoy. 'It is not safe to swim back to the ship due to the current and the waves, so the divers are picked up by a rubber boat and lifted back on board by a crane. All in all, this kind of diving has a strong James Bond vibe to it.'
Bos is satisfied with the expedition. 'Not only have we reached some great results, but this volunteering also helps me get a good picture of the North Sea. This will come in handy for our projects on the protected areas in the sea, on the recovery of nature and on the effects of offshore wind parks on the ecosystem.'
View the photos of the expedition here: