Photos: Sven Menschel
While you are eating your sandwiches and catching up with your friends during the lunchbreak, Julie von Gruenigen is swimming lengths in the pool. When you go back to your room to study after class, this student of Nutrition and Health pulls on her running shoes to run half a marathon. While you sit at home watching Netflix series at the weekend, Von Gruenigen is cycling halfway round the country.
The half-Swiss, half-Dutch Julie von Gruenigen is a triathlete. This means contests called Ironman, which consist of swimming 3.84 kilometres, cycling 180.2 kilometres and running 42.195 kilometres. 'I'm not a sprinter,' laughs the blonde student. 'Endurance sport really is my thing. I've been swimming, cycling and running since I was very young.'
Hawaii
It is one of the first warm spring days on campus, but Von Gruenigen's legs already look suntanned. She has just come back from Barcelona, where she did the first half Ironman of the season, and came first among the amateurs. 'It went very smoothly,' she says. 'An Ironman feels like a reward for all the hard work. You have trained for months for that one day and by then you are so strong that can really enjoy such a taxing competition. The support of people on the sidelines is hugely encouraging, especially if they are family and friends.'
I was impressed by that sense achieving a big goal together. I wanted that too.
Since Von Gruenigen started running triathlons in 2012, at the age of 17, she has always made it to the podium. 'I loved sport and I thought: let me give it a go. It wasn't my ambition to become very good.'
That changed in 2015 when she took a gap year to travel after her exams. 'I was in Hawaii when the Ironman World Championship was on. Only the best were there, people for whom the World Championship is a major goal in life. The atmosphere was one of determination and yet at the same time very relaxed. I was impressed by that sense of achieving a big goal together. I wanted that too.'
Improving
The idea of the World Championship kept haunting her. 'Halfway through my gap year I went home to earn money to go to Australia, but I couldn't get the Ironman out of my mind. I thought: I'm on a gap year now anyway, why don't I spend it training?' So she stayed in Switzerland and ended up running the Ironman in Maastricht. That went better than expected. 'I didn't know whether I would be able to finish the race, so I started out slowly. Then it turned out I had done so well that I had qualified for the World Championship in Hawaii.'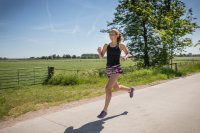 She did well there in October 2015, too. 'And then I thought: now I want to improve. I got a coach who makes me a training schedule every week, which fits around my timetable. It always means training two to three times a day for three days in a row, followed by a rest day. I don't usually train in the mornings because I'm not at my best at that time of day. I use that time to study. During the lunchbreak I usually go swimming or running and in the afternoon I go running or cycling. At weekends I'm often out for nine to ten hours, going for long bike rides or a good long run. I train more frequently in the summer. That is when the races are, and I sometimes train for 20 to 25 hours a week.'
Happy
If she's honest, Von Gruenigen is not equally keen on all the components of the triathlon. 'I always find the swimming races quite stressful. You swim in open water so you have to keep a lookout for the other competitors. I enjoy the cycling most. I always overtake everyone and that is very motivating.' The running is the toughest component for her. 'It's nice at the start. My strategy is to look around me and smile at the people on the sidelines. That makes me happy. But towards the end you are totally knackered; the distance is so punishing for your body. It's just that you've got so far by then, you can't stop.'
After a triathlon, Von Gruenigen is always very happy. 'I'm usually super-happy and relieved I made it. You forget all the hard slog and I am often very happy for several days or even weeks.' She doesn't want to think about sport, though. 'I've had enough for a while then, and all I want to do is yoga. Especially mentally, I cannot bring myself to do anything tough. You have pushed yourself so far that you can't cope with the pain anymore.'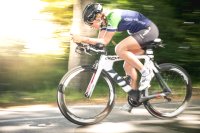 'I enjoy the cycling most. I always overtake everyone and that is very motivating.'
Flow
The Wageningen student sports association Thymos declared Von Gruenigen Student Sportswoman of the Year for the second year in a row this year. She has her cycling mates from the club Hellingproof to thank for her nomination. 'I often train alone but I enjoy cycling in a group, because you can have a bit of a chat along the way.'
Although she gives up a lot of her spare time for her the sport, Van Gruenigen does not see it as a burden. 'I enjoy getting a lot of exercise. You see a lot of the country when you're cycling and if the running goes well you get into a flow, and that feels so good.' She never feels under pressure. 'I choose to do this myself and I can stop whenever I want. Of course I don't go to as many parties, I don't drink much and I don't stay up all night. But at the moment there is nothing I would rather do with the time I spend on sport.'