'My family is from North Central Nigeria, but I went on national youth service to the northern Binvaminu region, where the drought is severe. A drought has so much impact in this region, because the Fulani herdsmen are not able to feed their cattle on the regular grasslands and they move to regions with more agriculture. There they sometimes get into conflict with local farmers.
During this youth service, I was teaching beef and dairy cattle production. We visited this village where people had nothing at all to eat. I was struck by the situation and adapted my lessons to teach people to improve the current situation: how they can have more bargaining power if they sell their crops in bulk instead of in small quantities.
The media image of the famine is incomplete
I believe that climate change is worsening the droughts in Nigeria, but the media image that the drought is causing a record famine is incomplete. Firstly, the livestock breeds and plant species in these regions are drought-tolerant and farmers have in-depth knowledge. But farmers who utilize improved varieties are very vulnerable. For instance, over-dependence for seeds on corporate organizations increases prices, and military insecurity has made it difficult for farmers to bring their crops to the markets. Secondly, the land degradation and tremendous water pollution caused by the activities of oil and gas companies have denied millions of people access to farmland in the Niger Delta regions of the country. To improve their situation on the long term, farmers need to unite and to have good storage facilities.'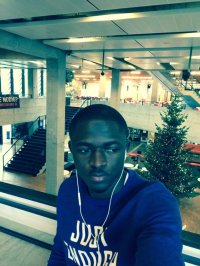 Luqman Adeiza Jinadu, Master's student of Animal Breeding and Genetics, explains the current situation in his home country Nigeria.