<Photo: Layla Broers>
'Of course we were really happy when we won,' says Layla Broers. The student of Nutrition and Health and her fellow students Sjoerd van Dongen (Molecular Life Sciences) and Veerle de Goederen (Biology) entered the competition as part of their Honours Programme. Last summer they worked on developing a biodegradable plastic that would be suitable for use as food packaging. Broers: 'With nine entries from Master's students, it was a surprise to us as Bachelor's students to be selected to implement our research proposal, but we never expected to win as well.'
The winner was announced at the biggest chemistry conference in the Netherlands on 7 December. At the conference Van Dongen realized that they might be on to something very interesting with their new generation of bioplastics. 'During the research we were already getting very interesting results, but of course we didn't know whether it was interesting enough compared with what other teams were coming up with. When I saw posters by the other teams at the conference I thought: we do stand a chance of winning. But in the end you are still pretty amazed to be called up onto the podium.' The trio will be publishing their findings in a scientific journal, and a bioplastics producer has already expressed interest in the results.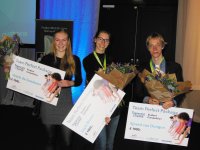 A nice harvest from a long summer's hard work. The students were in the lab and the workshop every day. At the computer they brushed up their knowledge about bioplastics. Broers: 'Our studies overlap with this field but none of us is really involved in the world of plastics. That is what made this competition so nice, because we learned a lot of new things.' Van Dongen: 'In the workshop we used nearly all the equipment that was there. Some of the equipment was very specifically for developing bioplastics, for melting and load-testing for instance. These weren't things we would normally have come across in our studies, so that was quite special.'
What exactly did the trio develop? Most bioplastics to date are porous, which makes then unsuitable for packaging material. This team of students, calling themselves Perfect Package, studied the use of nanoparticles for making plastic more stable and watertight. Previously they used chitin, a water-resistant substance obtained from shellfish. Research had already been done on this, but the three students were the first to succeed in creating an almost commercial-standard bioplastic with nanoparticles. Their bioplastic has comparable characteristics to those of 'ordinary' plastic made of polythene, noted the jury, who praised the creative way the students managed to make use of chemistry to address an issue that was relevant to society.
The jury sees a close resemblance between their bioplastic and standard plastic
The three third-year students all went home with a cheque for 1000 euros. Van Dongen does not know what he's going to with it yet. 'I don't have any definite plan yet. I'll probably put it towards my studies.' Broers does have a plan: a new computer. And De Goederen will use the money to go on holiday.