Photo's Guy Ackermans, Wim van Egmond and Gerlinde de Deyn
'Meet the mysterious soil life' is the name of the enterprise launched with the aid of crowdfunding at the beginning of this year. The target sum of 10,000 euros has recently been reached. It took exactly 137 generous donors to do so. 'Individuals and companies from at home and abroad donated between 15 and 500-plus euros,' says soil ecologist Gerlinde de Deyn with enthusiasm. She is one of the initiators of the project which aims to reveal the existence of slow-growing underground plants and animals.
Ingrid Lubbers (left)
and Gerlinde De Deyn with the apparatus with which they and artist Wim van Egmond are recording soil life
World audience
De Deyn and her fellow soil scientists Ingrid Lubbers and Willem-Jan van Groenigen are working with artist and micro-photographer Wim van Egmond. The foursome started two years ago by recording the subterranean life of the worm. This produced thousands of virtually identical photos which suddenly come to life when strung together to form a film. De Deyn makes regular and successful use of the films at symposia and presentations. And a few seconds of footage were even used at the opening ceremony of the Olympic games, with a global audience.
The pictures now being taken in the basement are intended to show the underground interactions between plant roots and soil life. Encounters with other roots, fungi, bacteria and other soil life. Maize, pumpkin and bean seeds have been planted in a little slice of potted plant soil between two glass plates. Lamps create a diurnal rhythm and two cameras register what happens both underground and above the surface at intervals of nearly 15 minutes. 'If you play the photos at 25 frames per second you get four seconds of film per day,' explains photographer van Egmond. Life speeded up 21,600 times. 'That is a nice acceleration and it's also easy to calculate with.' Van Egmond knows what he's talking about: he has a lot of experience of recording the growth of fungi.
Sticking plaster technology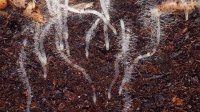 The installation, hidden in a corner of a chilly basement under Atlas, looks a bit improvised at first glance. Plasters and clamps dominate the scene. A packet of paper hankies supports a flash. Van Egmond: 'I use an awful lot of those hankies. I often use them to clean my microscope glasses with alcohol. And I suffer from hay fever.' He refers to his working method jokingly as sticking plaster technology. 'I always use anything I can lay my hands on.'
The setup that is here now took a lot of puzzling over. 'The biggest problem is how to prevent condensation,' explains Van Egmond. 'Underground it is not a problem but above ground it is. The solution was to work with two cameras, one above and one below ground. Above ground the plants are not behind glass. A large cone closes off the space between the camera and the plants so that the creatures we put in cannot get away. Those creatures make it a lot trickier.'
Besides the new apparatus are two more installations, one of which records how the vetch plant develops root nodules for nitrogen-binding bacteria. The other installation records the germination and growth of oak trees in forest soil, as well as their underground association with mycorrhiza fungi. The oak experiment has already been running for three months. A glance at the counter shows that the camera has already shot nearly 10,000 pictures.
Exploration
According to De Deyn, the work going on in the Atlas basement is not science. 'It illustrates science. This is a good way of demonstrating botanical and ecological principles. They have never been shown like this before. I am using the images in the MOOC Soil4Life, for instance. This is the best way of showing that the soil is in continuous motion. But you never know, we might see something new. Observations are often the basis for trailblazing research.'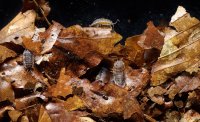 The project is not art either, says Van Egmond. 'I am not aiming at producing art. I am just inquisitive and I'm interested in science as well as art. My work moves between the two; it stays somewhere in the middle ground between them. Some of the things I make get displayed in galleries, while others are educational. Of course I try to make a beautiful image. I am a photographer and a photographer is an observer. My driving motive is to see how life works. This is an exploration of the soil. You fill a tub with soil, shove a few seeds in and only a month later do you see what has happened. Then you suddenly find that so much has happened that you could watch the film ten times and see something new every time.'
Crowdfunding
The University Fund Wageningen launched a platform for crowdfunding at the beginning of this year. Of the five projects two have now successfully been rounded off. Besides the time-lapse film in this story, there is biologist Evert Mul's sperm whale project. Mul raised over 9500 euros to catalogue sperm whale flukes. Then there is Wieger Wamelink's project, whose term ran out this week. He raised half of the targeted 25,000 euros for growing plants on Martian and moon soil. Fundraising for ecologist Arnold van Vliet's mosquito radar app is halfway to the target of 25,000 euros. The student project iGEM, which wants to tackle the bee-killing varroa mite, has reached one third of its target of 30,000 euros, with less than a month to go.