'A lot of people immediately associate Rwanda with the genocide, which is a great pity actually. It is such a beautiful country. But the impact of the genocide is still massive. So I thought it was important to see that side of things as well. I visited a church in which 10,000 people were killed in one go. They kept all the clothing and bones of the people and put them down in the church. That makes it vivid and you realize that only 20 years ago so many people were murdered purely because of their ethnicity.

My thesis was about complementary feeding among children from 6 to 23 months, when they are making the transition from breastfeeding to solid food. I researched the influence of inadequate feeding habits on chronic undernutrition and growth. I also help a PhD student with setting up a method for quantifying breast-feeding. I had done a pilot on that in the Netherlands but unfortunately we didn't manage to roll it out it fully in Rwanda.
It is a very bureaucratic country and everything goes much more slowly. It also turned out that I needed a work permit to do fieldwork. This had not been communicated clearly and then it was already too late. That was a pity and frustrating, but it did mean I could analyse a lot of data and take some other initiatives. I spent some time at Unicef and Gardens for Health, for instance, two NGOs that do a lot of work on undernutrition in Rwanda. That was very nice indeed, but it was confronting too, because you see undernourished infants who make you think: I don't know if you'll still be alive in a week's time.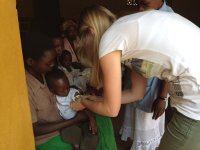 I also spent a day going around with Rwandan nutrition students who were collecting questionnaires about what children had eaten in the past 24 hours. We had to drive off-road for two hours to a village of ten houses. The woman considered it a great honour to welcome a muzungu, a white person, into her home. It is all very basic there, but people can be happy with nothing. It has taught me to be happy with what I have here.'